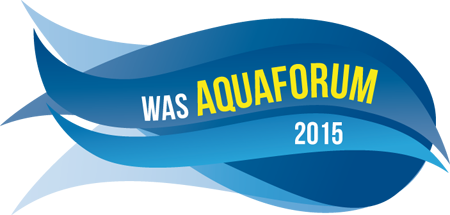 Register now online, and get your free entrance badge for this AquaForum on Jeju. You can use this badge to enter the World Aquaculture trade show (May 27-29).

Find more details on the full conference registration, accommodation and farm tours at www.was.org

AquaForum 2015 – May 26th in the Industry Room - Schedule
14.00-14:10 – Welcome – Michael Schwarz
14.00-14:10 - Successes and challenges in aquaculture in Korea, a model for regional technology development – Isidor Yu

Biosecurity: Aquaforum 2015
14:30-14:50 - Assuring health and biosecurity in finfish & shrimp culture systems – Leo Galli
14:50-15:10 - An update on the role of biosecurity in controlling disease in marine shrimp culture – Victoria Alday
15.10-15.40 - Biosecurity: developing a regional aquatic disease initiative – Panel discussion with FishVet, Bayer, Merck, Pharmaq, Novartis, Phibro.

Nutrition: Aquaforum 2015
16:00-16:20 - Aquaculture feeds and feeding: New technologies to sustainably double aquaculture production by 2050 – Craig Browdy
16:20-16:40 - Sustainability of China's Aquaculture and Aquafeed Industry – Kangsan Mai
16:40-17:10 - The Alternative Ingredients and Future Aquafeeds in 2020 – panel discussion with Alltech, Biomar, Skretting, Hinter, NutriAd, Uni-President, Inve, Grobest, Cargill, LeSAffre, Ewos, Biomin.

Aquaculture Production Systems: Aquaforum 2015
17.10-17.30 - Progress in marine fish and shrimp larviculture with focus on opportunities for Asia – Patrick Sorgeloos
17:30-17:50 - Current and future trends in regional aquaculture production systems in China - Shuanglin Dong
17:50-18:20 - Future Production Systems in Korea and Asia - What to Choose? – panel discussion with Pentair, AKVA ,Faivre, and many more.

More info on the speakers at the AquaForum 2015

Dr Kangsan Mai received his PhD at the National University of Ireland. He is now working as Professor of aquaculture nutrition at the Ocean University of China, Qingdao, China and is a member of the Chinese Academy of Engineering. He was Vice-President of Ocean University of China from 1998 to 2002 and Vice chairman of the China Society of Fisheries. He is also a Committee member of International Fish Nutrition and Feeding. He has more than 200 publications and 30 authorized national invention patents in aquaculture nutrition and feeds. He has received 8 National, Provincial or Ministry Awards of Science and Technology Progress for his achievements.

Prof Patrick Sorgeloos is emeritus professor of aquaculture at Ghent University in Belgium and has been involved in fish and shellfish larviculture R&D in Europe, Asia, Latin America and Africa ever since the mid seventies. So far over 250 Master and 70 PhD alumni have graduated from Ghent University in the field of aquaculture under his guidance. Patrick is a strong promoter of international networking in aquaculture and has been involved with the World Aquaculture Society (1999-2000 President), the European Commission (chairman Thematic Network Aquaculture – AquaTnet; member Advisory Group DG Research FP7 theme 2 food, agriculture and biotechnology; chairman ASEM Aquaculture Platform) and the European Aquaculture Technology & Innovation Platform (founding member). He has received honorary awards in China, Egypt, Greece,Thailand, USA and Vietnam.

Dr Victoria Alday finalized her PhD degree in 1994 with her thesis Studies on the pathogenesis of Vibrio spp infection in Penaeus monodon fabricius at the Institute of Aquaculture, University of Stirling, Scotland. She has worked for over 20 years mainly on aquatic animal health: shrimp and fish diseases, diagnostics, health management, sanitary legislation and biosecurity.
She worked for the EU, FAO, EFSA, OIE, World Bank and ADB. She has been consultant for shrimp farmers, consultancy agencies, insurance and financial companies. Worked on R&D for INVE Technologies.Director for Aquaculture Animal Health of PESCANOVA.She is the author of over 80 works and one patent including: 2 books, 5 book chapters, 32 refereed journal papers, +50 industry magazine articles and articles in Latin American research, industry magazine and newspapers. Numerous reports for international agencies.

Dr Shuanglin Dong is Vice President of Ocean University of China and the Dean of Graduate School of OUC, the Director of China Society of Marine Economy, the Convenor of Fisheries Discipline of Discipline Assessment Group of the State Council of China, Deputy Director of Journal of Ocean University of China (English edition).

He is also a professor of Fisheries College in OUC and a winner of the National Science Fund for Distinguished Young Scholars (1997). His research work focuses on aquaculture ecology. He has published more than 150 papers and the book Ecological Foundation of Integrated Aquaculture in China, and won the Prizes of the State Scientific and Technological Progress Award twice , one was the Studies and application of aquaculture technology in saline-alkaline ponds in 2006, and the other was the Studies and application clean and efficient technology in mariculture pond in 2012. Nowadays he devotes himself to ecological intensification of aquaculture systems.
Dr Dong will talk on Current and future trends in regional aquaculture production systems in China on May 26th.
Dr
Leo

Galli
is a veterinarian with an MSc degree in Biotechnology (Molecular Biology and Genetic Engineering). He has over 25 years' experience in commercial shrimp farming production, managing commercial operations (hatcheries and farms) in Ecuador, Brazil, Saudi Arabia, Mozambique and Malaysia. He also has more than 8 years' experience in freshwater fish production, culturing catfish, tilapia, trout and, sturgeon for caviar production. He has international aquaculture consultancy experience designing and operating shrimp hatcheries and farms, Production experience with the three most important commercial shrimp species, i.e. Litopenaeus vannamei, Penaeus monodon and Fenneropenaeus indicus. He is highly experienced in shrimp pathology, biosecurity and genetic selection programs.
Dr Galli will give the following talk at the Aquaforum: Assuring health and biosecurity in finfish & shrimp culture systems. Dr Galli is the Technical Director of the Fish Vet Group Asia Limited.
Aquaculture for Healthy People, Planet and Profit
The theme for World Aquaculture 2015 in Jeju is Aquaculture for Healthy People, Planet and Profit, and is very relevant for an area which has a strong aquaculture industry, a population which has a high seafood consumption and is home to a natural UNESCO World Heritage Site. The plenary speakers for the event have been chosen specifically to cover the theme in their presentations.

It is now time to register for the World Aquaculture 2015 event. More details on the program coming soon.

Over 130 booths sold at the WA15 trade show. Contact mario@marevent.com for more info on the trade show and sponsorship.

For all details on the event:
www.was.org
www.marevent.com
T:+32 9233 4912

UPCOMING EVENTS:
WA15 AQUAFORUM Jeju Island, Korea May 26 www.was.org
WORLD AQUACULTURE 2015 Jeju Island, Korea May 26-30 www.was.org
AQUACULTURE EUROPE 2015 Rotterdam, Netherlands October 20-23 www.easonline.org
LATIN AMERICAN & CARIBBEAN AQUACULTURE 2015 Fortaleza, Brazil Nov.16-19 www.was.org

AQUACULTURE 2016 Las Vegas, Nevada USA Feb 22-26

MIDDLE EAST AQUACULTURE FORUM 2016 Tehran, Iran March

ASIA PACIFIC Aquaculture 2016 Surabaya, Indonesia April 26-29

AQUACULTURE EUROPE 2016 Edinburgh, Scotland September 20-23, 2016

LATIN AMERICAN & CARIBBEAN AQUACULTURE 2016Lima, Peru November

AQUACULTURE AMERICA 2017 San Antonio, Texas, USA Feb 19-22

MIDDLE EAST AQUACULTURE FORUM 2017 April Dubai

WORLD AQUACULTURE 2017 Cape Town, South Africa June 26-30

ASIA PACIFIC Aquaculture 2017Johor Bahru, Malaysia Aug 26-29

AQUACULTURE EUROPE 2017 Dubrovnik, CroatiaOctober 16-20

AQUACULTURE AMERICA 2018 Las Vegas, Nevada, USA Feb. 19-22

AQUA 2018
Read more HERE.
The Aquaculturists
This blog is maintained by The Aquaculturists staff and is supported by the
magazine International Aquafeed which is published by
Perendale Publishers Ltd
For additional daily news from aquaculture around the world: aquaculture-news